I am always on the lookout for sim software to add to my collection, and recently while browsing Trademe I stumbled over one of the more obscure items on my 'wish list'; ASA OnTop IFR Proficiency Simulator.
This is no flashy simulation game, this is a serious training tool… therefore it doesn't have pretty graphics or sound, what it does have are accurate instrument panels and aircraft performance for 10 different aircraft. It even has detailed simulations of the Garmin GNS430 and G1000 (although it calls it a G1000 'like' display)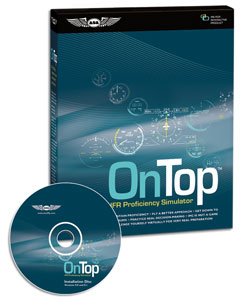 So far, apart from unpacking it and quickly installing it to have a look I haven't done anything serious with it. I have a grand plan to build a 32bit PC (its old remember) and set it up as a desktop training thing in the ManCave….